If you're someone who likes to jot down notes to keep their thoughts organized or whose line of work requires taking notes regularly, you've likely come across two of the most popular note-taking apps available today: OneNote and Evernote. Both of these apps have free versions and come with some very useful features, but each has pros and cons that set it apart from the other. While some users swear by OneNote, others prefer Evernote. Let's discuss the features of both apps to help you decide which one is better for your business.
Taking notes
OneNote
Microsoft OneNote features the traditional Microsoft Office Ribbon that provides you with many features to create, edit, view, and organize notes. While creating notes, you can add text, images, tables, videos, audio files, spreadsheets, links, and more to your notes. This helps you create content-rich notes and keep all media associated with them in one place.
You can take freehand notes and draw freehand images using a touch-enabled device or a Microsoft Surface device. The usual Microsoft Office formatting and reviewing options help you create more appealing and accurate notes.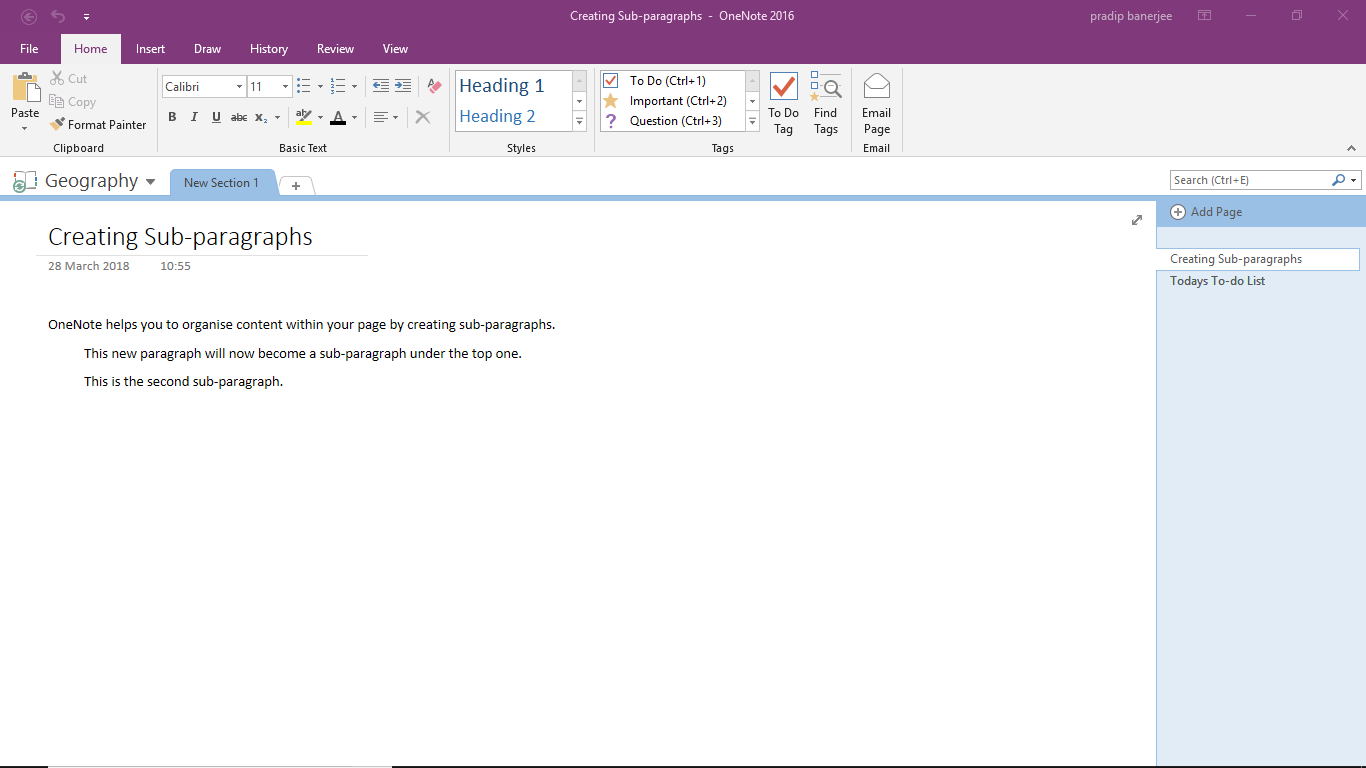 Evernote
Evernote includes most of the same note-creation features, like drawing and editing tools, but doesn't provide some OneNote features like reviewing other users' edits. Also, unless you tag your notes, they will keep piling up in an unorganized manner, and it will be difficult to search for them later.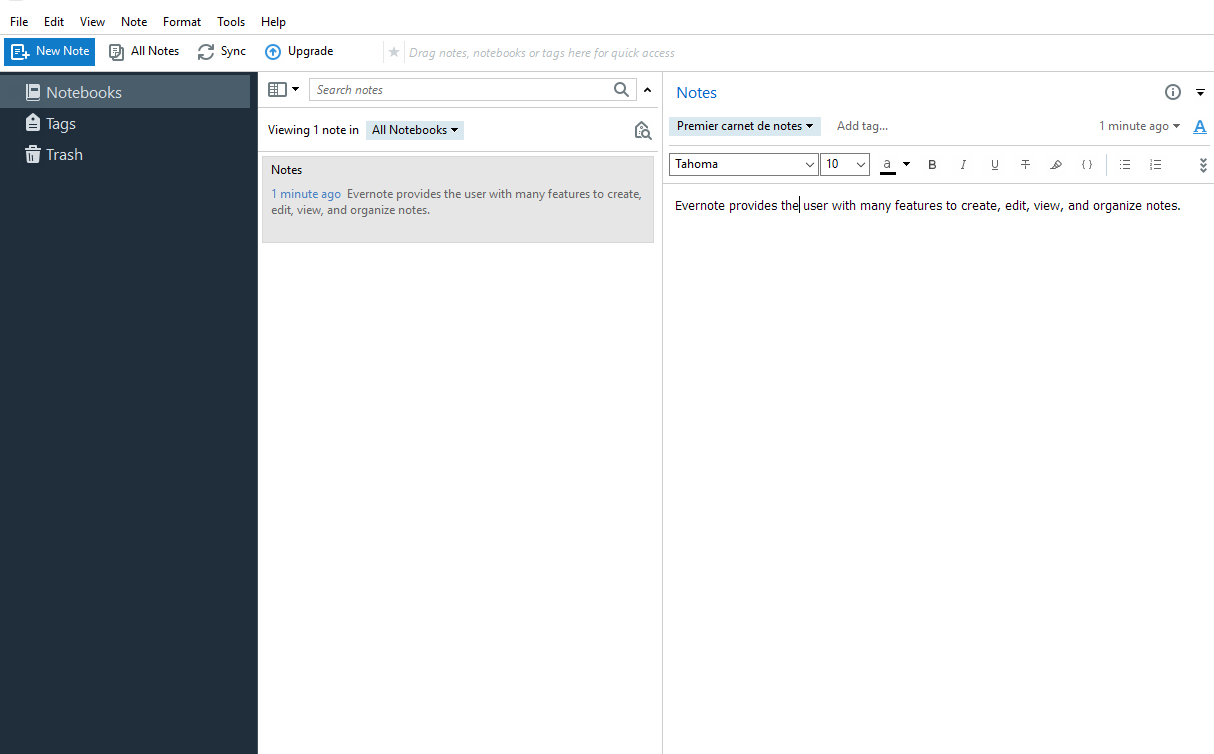 Organizing your notes
OneNote
OneNote helps you organize content just like you would in a physical notebook—in the hierarchy of notebooks, section groups, sections, and pages. This provides you with simple and broad cabinets to save your notes in. Pages in a section are displayed in a list on the right-side panel, which helps you keep track of topics that you've created. OneNote also helps you organize content within your page by creating sub-paragraphs. You can create multiple paragraphs under the main one and collapse/display them as needed.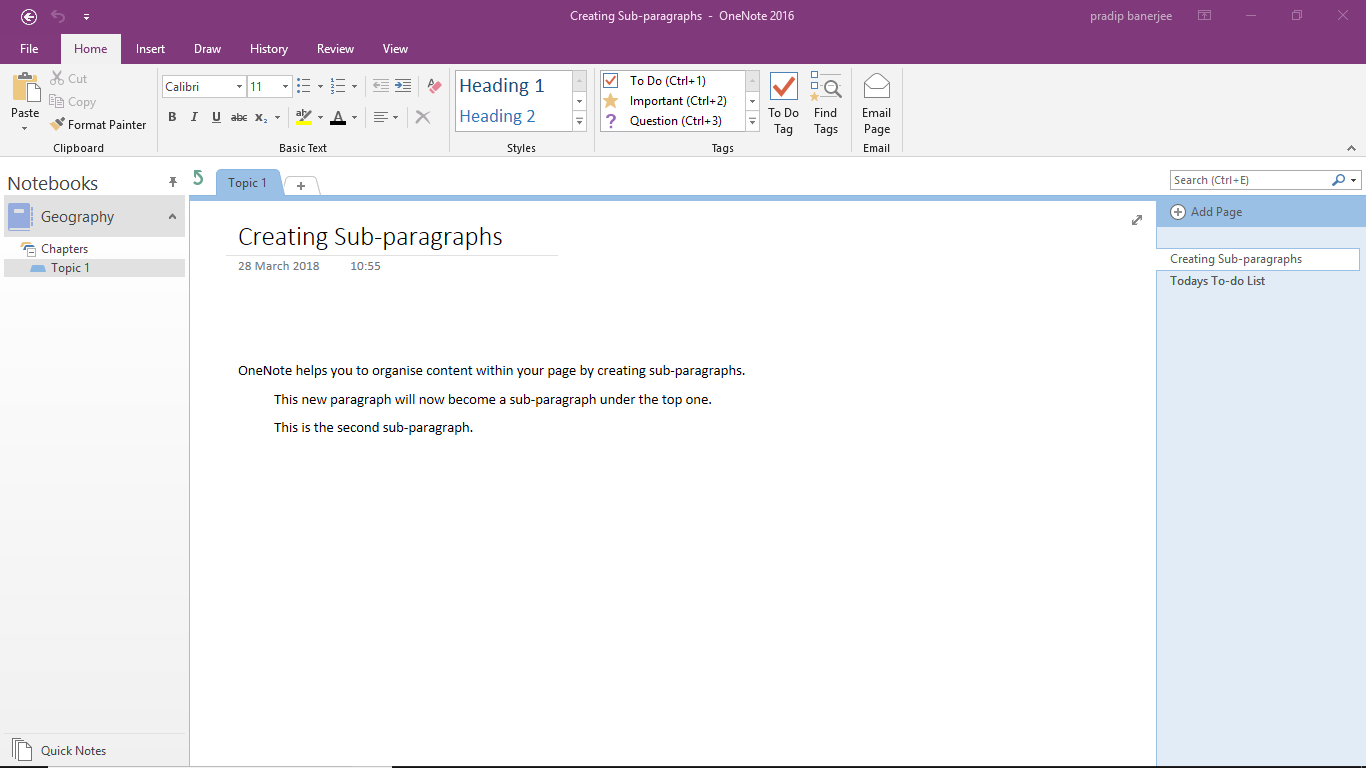 Evernote
Evernote organizes notes in a linear fashion, displaying all the existing notebooks on the far-left side of the screen. While scrolling through these notebooks, you can see the list of notes in each and image clippings from those notes. As the name suggests, the "All notes" section displays the entire collection of notes taken up to this point, irrespective of the notebooks they are in. Evernote provides a Tags options under the listed notebooks where you can search for notes according to their tags.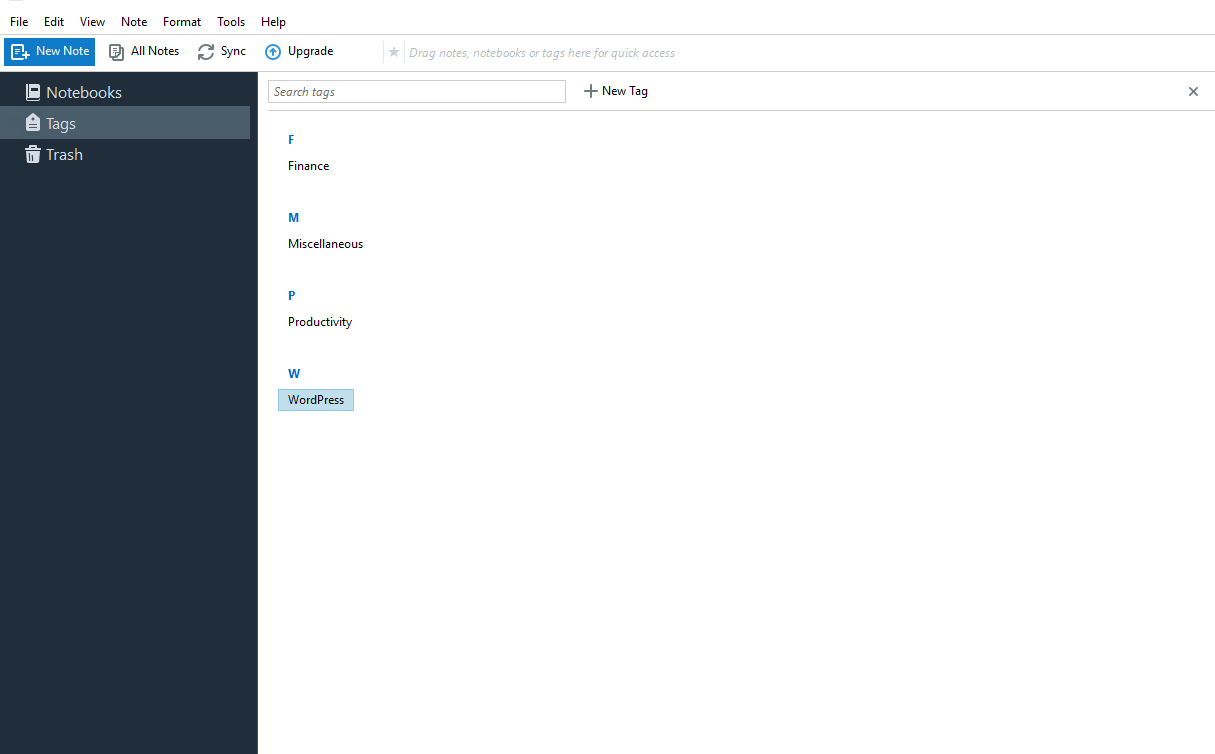 Clipping content from the web
OneNote
OneNote has a clipper add-in that has very basic functionality and can only be used from a Microsoft account. Using this clipper, you can grab a screenshot of a webpage or other content. For example, you can choose to capture an article from a webpage, excluding the advertisements, as well as its bookmark.
The clipping gets embedded as an image. OneNote allows you to include this clipping only inside an existing notebook. If there are any multimedia components or links on the clipping, you will not be able to interact with them. OneNote also doesn't allow you to copy a saved clipping to other applications, such as Microsoft Word.
Evernote
With Evernote, you can do all this but also choose to exclude the original format of the article and copy just the text and images from it. You can create a new notebook to add this clipped information and use Evernote's mark-up tools to include comments or questions. You can also play around with the content from the clipped page by editing or changing its appearance, such as adding text to it, highlighting it, and even drawing directly on it. Unlike OneNote, Evernote lets you click the links of the clipped page. You can also view videos embedded in clipped content by clicking them and visiting the original webpage from where the content was clipped.
Device support
Both OneNote and Evernote can be used across devices, but the overall look and feel may vary from one device to another.
OneNote
As part of the Microsoft Office suite, OneNote works best on Windows, where you get to enjoy its entire range of note-creation and formatting options. You may find a few of these features missing in the web, iPad, and Mac versions of OneNote. Though the Mac version of OneNote has all the formatting features just like Windows, it doesn't provide you with as many Insert features. The iPad version also has its limitations, though it provides the extra functionality of taking a picture with your device's camera and inserting it into your notes. The iPhone and Android versions are also simplified and omit some features. However, they allow you to scroll through notes easily and take quick notes on the go.
Evernote
Out of all the different devices, Evernote also seems to look and work the best on Windows. It's easier to organize your notes on Windows, as existing notebooks are displayed vertically. This task becomes a little tricky while using an iPad or Mac. If you use the Android or iPhone version, Evernote displays notes in rectangular boxes with the note title and image displayed on it. While using the web version, you need to click the Notebook icon to see the list of existing notebooks. You can then click on a notebook to see the notes in it.
Using third-party apps
When it comes to using third party apps to import content, both OneNote and Evernote work well.
OneNote
Applications such as
Onetastic
,
Genius Scan
,
IFTTT
, and
Zapier
help you to easily bring information to OneNote, where you can edit and organize it according to your needs. In case you want to export your notes to other apps, OneNote allows you to do so easily with Microsoft Office products, especially Word. You can also export your notes to a spreadsheet or PDF documents.
Evernote
Evernote is very versatile in this regard, as it supports many apps across different platforms and devices. For example, if you need to convert recorded audio notes to text on Evernote, you can use the
Dragon Anywhere
app. Evernote also supports other useful apps like
TaskClone
and
Cloudmagic
. But if you export your notes to other apps, Evernote doesn't provide you with as many options as OneNote does.